We're already almost a quarter of the way through the 2023-24 Premier League season and, unsurprisingly, VAR controversies have not gone away. But which clubs have been the winners and losers from the influence of the video referee?
ESPN brings you the VAR Effect Table. So far there has been 16 VAR overturns in games, and we've calculated how they might have impacted results.
– How VAR decisions have affected every Prem club in 2023-24
– VAR in the Premier League: Ultimate guide
At this stage of last season we'd seen 25 decisions changed — which means interventions are down 36% year-on-year. It's a clear sign that VARs are trying to limit their impact upon games, though fans of some clubs will feel they should be getting involved far more often.
However, it's not just about the number of times a team gets a favourable VAR call, or about how many goals are affected. What's more important is when these VAR decisions take place and, crucially, whether that impact would ultimately have changed the final score.
We're not saying the VAR decisions were wrong — we're just looking at what might have happened if the video assistant didn't exist and the original decisions stood.
– JUMP TO: The losers without VAR | The winners without VAR
How we work out the VAR Effect Table
We take only the first VAR overturn in each game, because the calculation considers that any subsequent VAR incident wouldn't have happened because the whole direction of the game has been altered. (Think of it like a Marvel timeline, or the plot of any time-travel movie.)
The VAR decision is then reversed to the original on-field call — so if a goal is disallowed for offside, it's given as a goal.
If a penalty has been cancelled, it is considered to have been awarded and scored, unless the team in question has a penalty-conversion record below 50% over the season.
If a team has been awarded a goal through a penalty or an incorrect offside through VAR, the goal is disallowed.
We then take into account a series of factors before settling on a predicted outcome:
Team form: Results in the previous five matches give an indication of how a team has been playing generally.
Time of incident: For instance, if an incident happens late in the game, it's less likely that the scoreline would change again after this point.
xG at time of incident: This allows us to take into account which team has been creating the better chances and is in the ascendancy.
Team strength: As well as form, a team's general strength plays a part. This takes into account league position, and a team's goal-scoring and defensive records across the season.
Impact of incident: For example, a red card decision being reversed may change the outcome of a match.
These results have then been used to modify the table and work out what impact VAR has had on teams' positions this season.
The table shows each team's position after the amended results, with the arrows indicating if their league position is better or worse without VAR.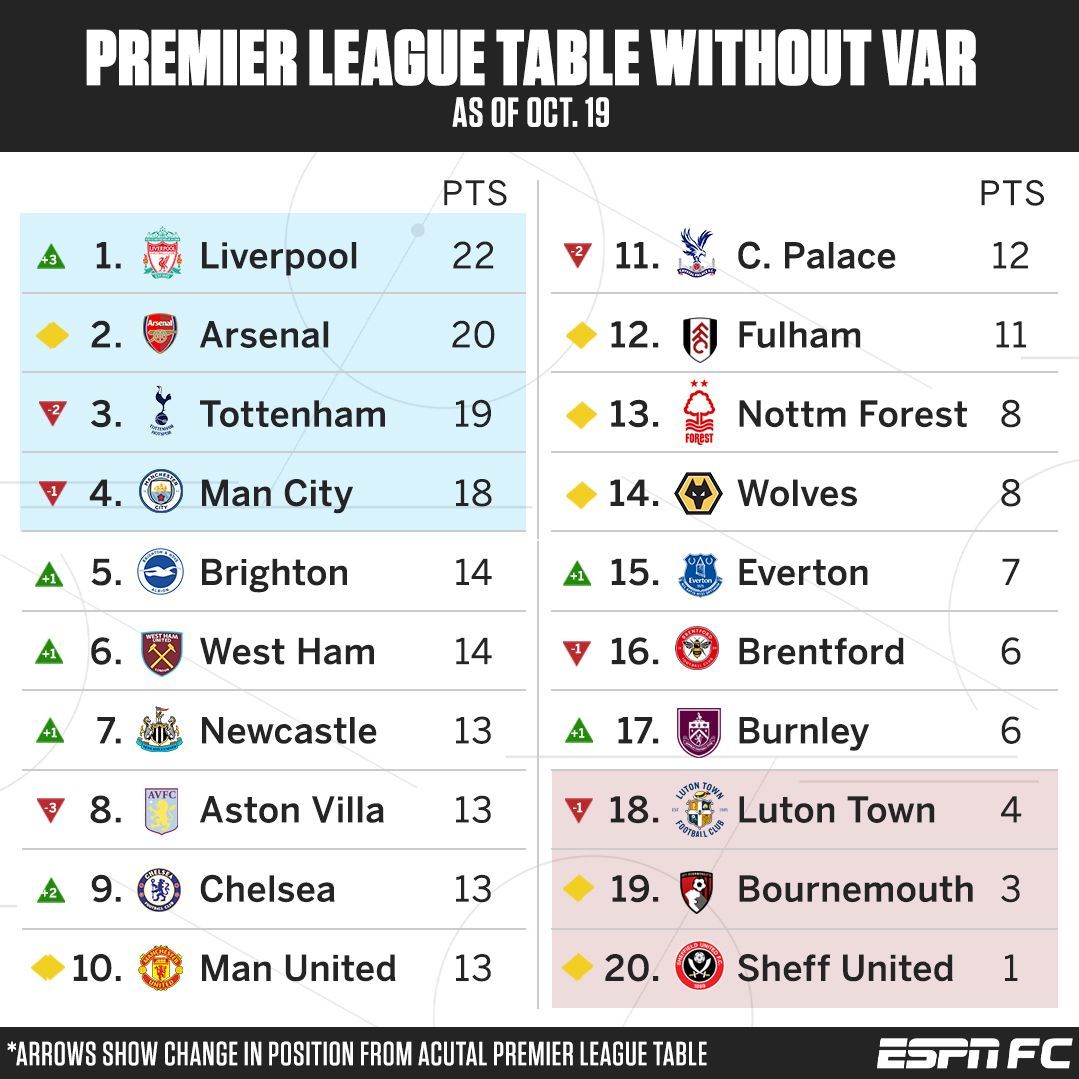 The big winners without VAR
Liverpool fans won't be at all surprised that they have been the worst affected by the impact of VAR decisions, and gain the most points.
We don't even take into account the VAR failure to award their "goal" at Tottenham when Luis Díaz was onside, for two reasons. Firstly, it wasn't the first VAR incident in the game so wouldn't qualify. And secondly, the VAR didn't actually manage to overturn the on-field decision of offside.
It's quite the turnaround for Jurgen Klopp's men and their experience with VAR, because last season only one club (Aston Villa) had more decisions at key times which changed results in their favour.
Now it's flipped, and after just eight games the impact has been so great that, without VAR, Liverpool are five points better off. They would sit on top of the table, two points clear.
The biggest decision to go against them came at the Tottenham Hotspur Stadium, when Curtis Jones was shown a red card in the 26th minute. The score was 0-0 at the time, with Liverpool's recent form slightly better than Spurs' and at that point in the game their xG was higher. With 11 players on the pitch, the VAR Effect gives Liverpool a 1-0 victory — a six-point swing on Tottenham.
Remember, the course of the game is altered by Jones staying on the pitch, and that means Diogo Jota's red card in the second half doesn't happen and Liverpool finish with 11 men rather than nine.
But that's not the only game to go against Klopp. Away at Chelsea on the opening weekend of the season, Mohamed Salah had a goal ruled out for offside in the 29th minute when the Reds were already 1-0 in front. With Salah's goal awarded they go on to win the game.
Three other clubs are better off without VAR — one of them being Chelsea despite that change of result against Liverpool. They also had Malo Gusto sent off at home to Villa in the 56th minute when Mauricio Pochettino's men were in the ascendancy, with a vastly superior xG. Chelsea may have lost the game in reality, but this calculation says they would have gone on to win without VAR — meaning they have two additional points, which moves them up two places into ninth.
There's good news for Burnley, too, who climb out of the relegation zone, with Luton Town dropping into it. Vincent Kompany's side saw a late winning goal at Nottingham Forest ruled out for handball by Sander Berge.
Manchester United get a point from their home loss to Brighton & Hove Albion, but stay in 10th. A Rasmus Højlund goal was disallowed for the ball being out of play which would have been the equaliser, in a match Brighton went on to win 3-1. We make that a 1-1 draw with Højlund on the scoresheet.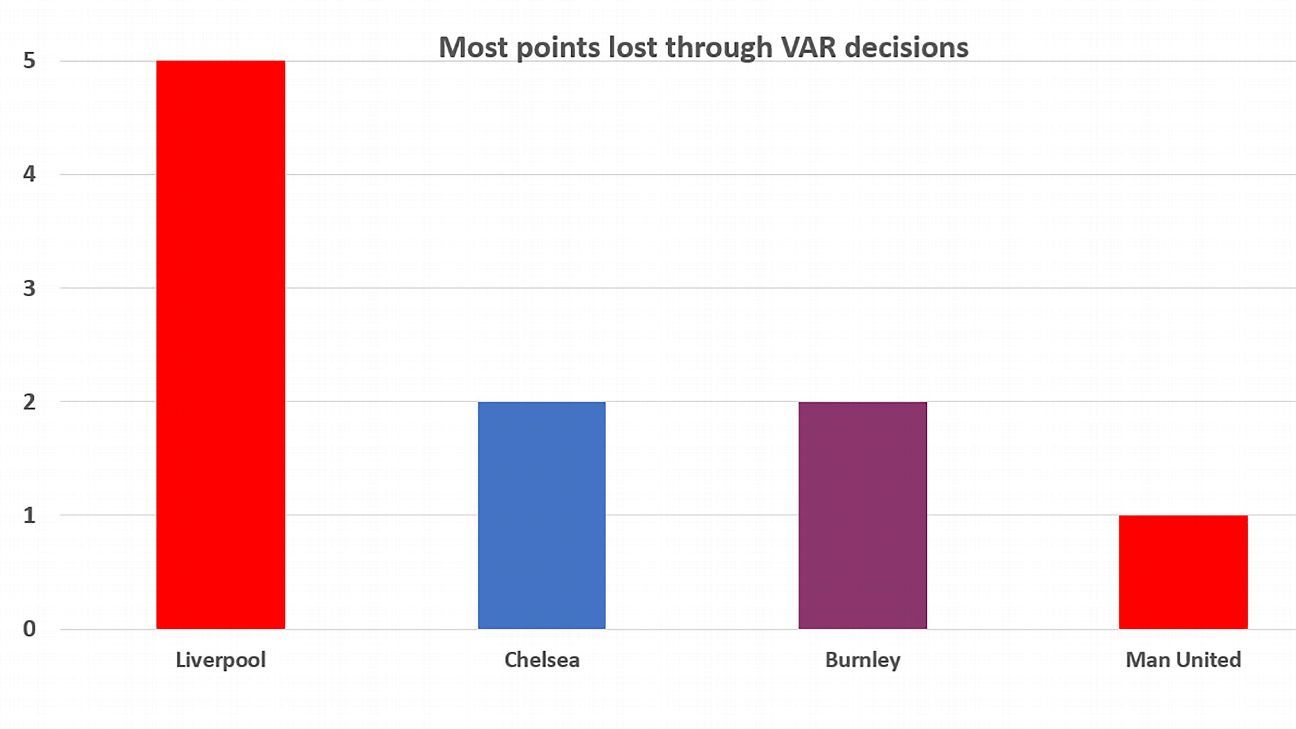 The big losers without VAR
Unai Emery's Aston Villa have had the best of VAR this season — for the second season in a row. That's thanks to that Gusto red card that helped them claim a fine victory at Chelsea. Without those three points they drop three places into eighth, enabling Brighton, West Ham United and Newcastle United to edge up one place.
But that's only part of the story for Brighton. While Roberto De Zerbi's men may have been on the end of some poor decisions in their 6-1 loss at Villa, VAR overturns have actually been in their favour and they are two points worse off without the video assistant — which comes from the change of the result with Højlund's goal counting for Man United.
Spurs are one point worse off in total without VAR. They were very much aided by the Jones red card against Liverpool which gave them three points. But there was a big VAR call against them: Son Heung-Min gave away a penalty at Brentford in a game which ended 2-2; that becomes a 2-1 victory for coach Ange Postecoglou. That's a net loss of one point without VAR — the same as Brentford.
Nottingham Forest also drop one point through the loss of the draw at home to Burnley, as the Berge handball isn't penalised.