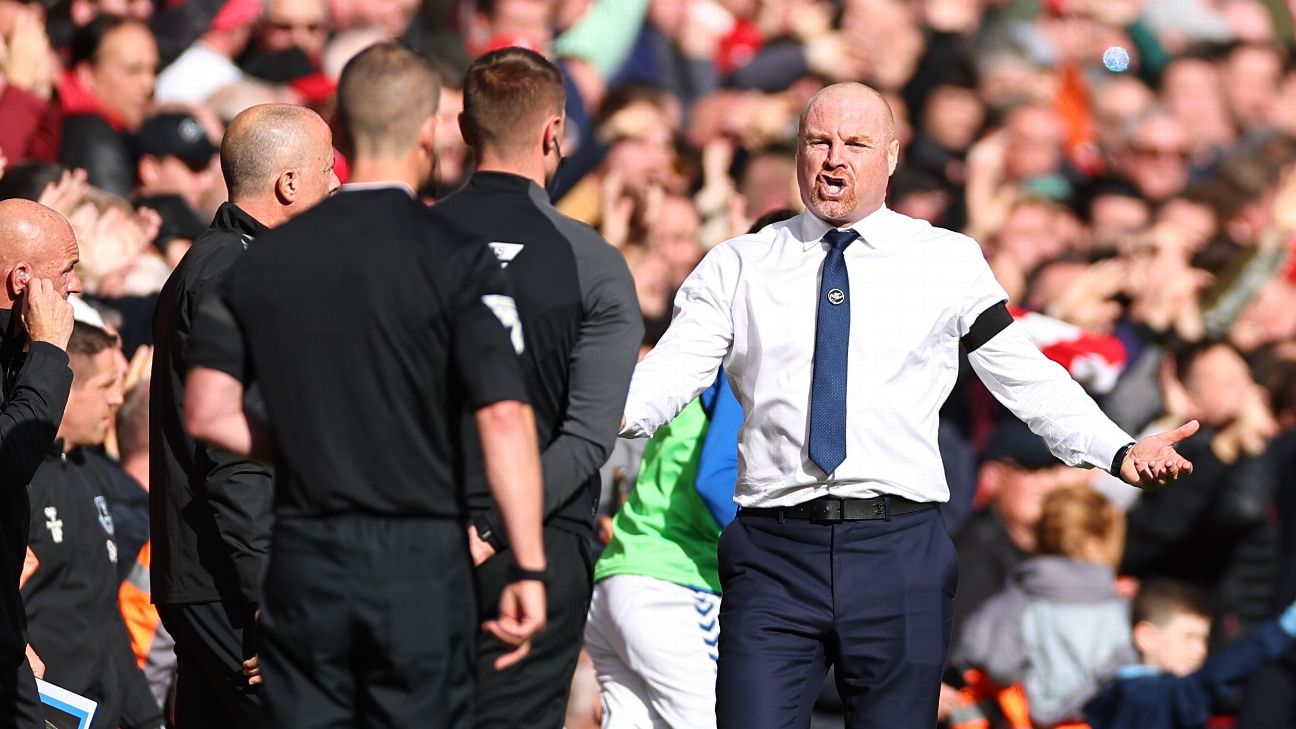 Everton manager Sean Dyche criticised the "bizarre" refereeing decisions in his side's 2-0 loss to Liverpool in the Merseyside derby at Anfield on Saturday.
A late Mohamed Salah brace secured the three points for Liverpool, who played a majority of the game with an extra man owing to Ashley Young's sending off in the first half after picking up two yellow cards.
– Stream on ESPN+: LaLiga, Bundesliga, more (U.S.)
Dyche, who was visibly incensed by that decision, grew more livid in the second half after Liverpool defender Ibrahima Konate wasn't shown a second yellow card for his challenge on Beto.
Dyche's remonstrations saw him given a yellow card by referee Craig Pawson.
"It's a bizarre nature of the modern game," Dyche told TNT Sports in his postmatch interview.
"How they at 0-0 have 11 [players] on the pitch, I don't think anyone knows why. Their manager certainly didn't cause he took the player off straight away because he shouldn't be on the pitch anyways. So it changed the game quite obviously."
When asked if he thought Young's sending off in the first half was fair, Dyche said, "The problem is how do you judge now? Their player does a ridiculous foul, which he should be yellow carded for, probably worse than Ashley Young's first one. The second one has got to be a yellow card. But the first one …
"There's no point. I'm going to get myself in trouble. I don't know how I got yellow carded. All my staff got yellow carded. It's impossible that we could get yellow carded with that performance but anyways, we did."
Liverpool boss Jurgen Klopp also admitted that the refereeing decisions had a sizable impact on the result.
"I liked a lot of moments and then the red card was pretty influential in the game. I wanted us to be calm and ignore that we were one man up. It is difficult in the stands because it's like now you have to create with each possession and it took a while until we got chances," he told the BBC.
"Ibrahima could have gone, yes. It could have happened obviously and then we took him off and from that moment we were solid and compact."